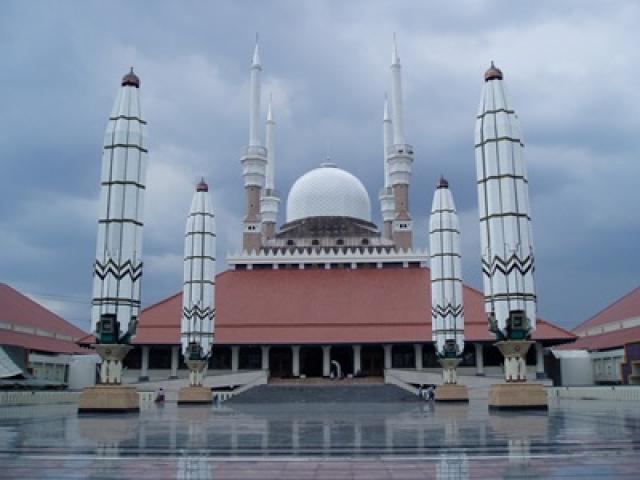 Masjid Agung Semarang is one of the biggest mosques in Indonesia. The beauty of the mosque architecture began to be built in 2001 up to 2006. The Mosque complex consists of the main building with an area of ​​7.669-meter square. This Grand Mosque is located in Jl. Gajah, Sambirejo village, Gayamsari, Semarang, Central Java.
The mosque can accommodate more than 15.000 worshipers and be inaugurated by President Susilo Bambang Yudhoyono in 2006. The inauguration ceremony was marked by a signed stone inscription as high as 3.2 meters with 7.8 tons weight and is placed on the front side of the mosque. Inscription made of natural stone and comes andesite from Mount Merapi.
Aside from being a place of worship, this Great Mosque is also a tourist attraction integrated educational, religious symbols of Islam and center of Moslem activity. The visitors can see the unique architecture of the mosque, which blends Javanese, Arabs, and Roman architectural styles.
The Javanese style could be seen at the base of the mosque pole and use motif as Tumpal, Kawung, Untu, and Parangan. The Middle East style looked at the wall of the mosque with ornate calligraphy. There are 6 giant hydraulic umbrellas, which can be opened and closed automatically, and also the adoption of the Prophet's Mosque architecture in Medina. The building is influenced by Roman architecture style as well, it can be seen from the interior design, and color layers are attached at the building corner.
Another feature is the form Asmaul Husna Tower with 99 meters height. The tower can be seen from a radius of 5 kilometers and it is located in the west part. The tower symbolizes the greatness and power of God and from there is equipped with a binocular view. Visitors can enjoy the fresh air while looking at the beauty of Semarang city and Tanjung Emas harbor.