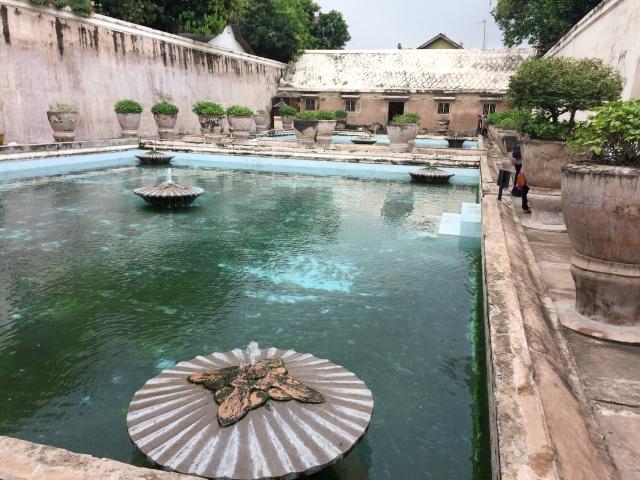 Water Castle is one of the heritage cultural of Yogyakarta. The Water Castle lies in the south part of Yogyakarta Sultan Palace. Water Castle became a tourist attraction visited by many travelers of foreign and domestic. Water Castle or Tamansari consists of 2 words, namely Taman and Sari. Water Castle complex is a beautiful garden park that belongs to the Sultan Palace of Yogyakarta. To enter the Water Castle can be through a back road and it was built during the reign of Sultan Hamengkubuwana 1 and completed by Sultan Hamengkubuwono 2. The architect of the building is Portuguese style, so the art building has very strong European architecture. The symbolic meaning of Java was maintained and more dominated.
The Water Castle is a complex consisting of swimming baths, water canals, privates rooms, and a large pond. Historically, this place used to bathe by reigning monarchs, the Sultan of Yogyakarta, and their families. The venue is also used for worship, because the Water Castle building is also equipped with a mosque, precisely in the building of Gumuling well. There is a Passage in the neighborhood of Water Castle. According to the story, there is a hallway connecting the ends of Parangtritis beach. It said the king of Yogyakarta was always associated with the South Sea Queen or Nyi Roro Kidul. The hallway was a path used to have a meeting with the Queen. Right now, the hall has been closed due to very old age.
Besides it being used for a vacation home and resting place, Water Castle was also used as a fortress. The wall that surrounds the Water Castle even looks old but still sturdy. This is evident when the earthquake in Yogyakarta and surrounding areas in the year 2006, the wall is still standing firmly.