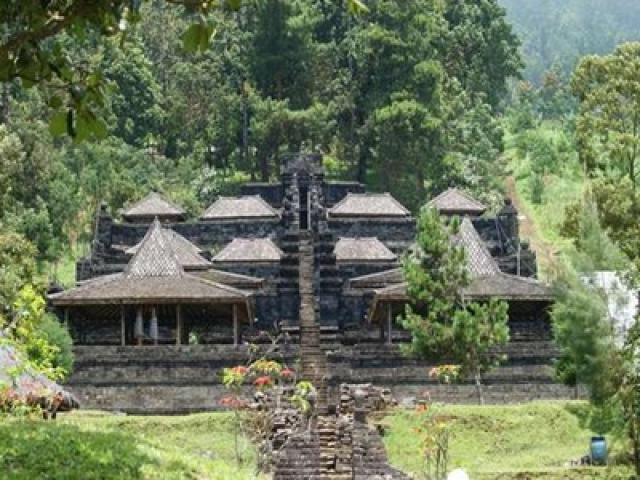 Ceto temple is located on the slopes of Mount Lawu and it is about 43 kilometers from Solo town. There is Solo stunning natural scenery along the way to the temple. Temple is a place for worship of Hindus and it lies in Kemuning village, Jenawi, Karanganyar regency. Being in tea gardens on top hill, where it kept the charm of exotic and fascinating. Ceto temple is not as famous as other Hindu temples like Prambanan, but charm and atmosphere are perfect pristine places of worship.
The temple consists of 7 levels with 3 arrangements of the main building. The last level describes the main building with 3 levels that will show caste in Hindu society that adheres to Brahmin caste, the Warrior Caste, Caste Sudras. Seven building levels the first step will immediately see 2 statues overlooking the gate.
At the second gate, would have vast courtyard garden staging yard will now perform prayer rituals for Hindu temples. After climbing gate 3, there can see a statue of a turtle right in front of the huge entrance gate to the next level and some other statues are considered sacred, but it is forbidden to step on them.
Entering gates 4, immediately faced with an open-roofed building of wood that can be used as a resting area after ascending by neat stone steps. Entering gates 5, you will see some places of worship with several buildings used as places sacred statues, and places for meditation. The 6th gate is the same as on the 5th floor and was close to the main building at level 7. A rectangular building with furnish main door to enter the building at sacral of holy Ceto temple.
It is fresh and natural scenery on the hill with cool air and the visitor can feel the wind from mountains with a carpet of tea gardens on the right and left side. Ceto temple is an awesome charming Hindu temple to visit and it is part of Solo tourism.