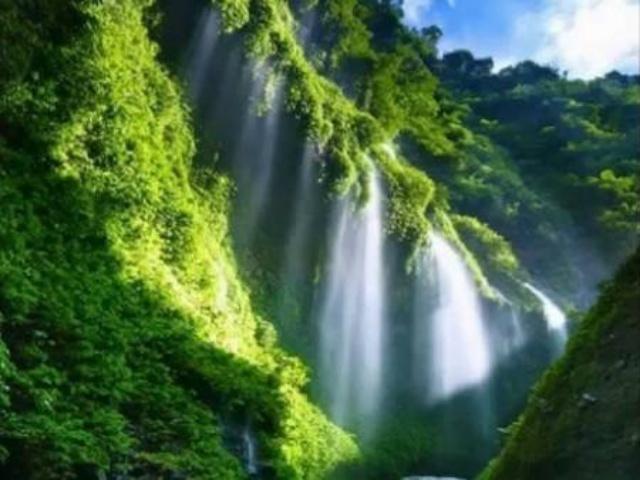 Mount Bromo turned out to save tourist sites that are unique and beautiful. Located approximately 45 minutes toward Probolinggo and these attractions are Madakaripura waterfall. According to local people, Madakaripura's name was taken from the story of Gajah Mada, who spent the end of his life meditating around this waterfall. The story is supported by the statues of Gajah Mada as chief minister in the parking area.
To achieve this attraction is not too difficult, a visitor should be done after visiting Bromo. If you come from Probolinggo, arriving in the Sukapura village, and turn right, the road will pass through the asphalt with mountains treats view refreshing eye. Approximately 5 kilometers away from the main road and will meet the entrance of Madakaripura waterfall tourist area marked by Gajah Mada statue.
Further runs about 15 minutes, through the trail made of cement so it will not be slippery when it's wet. Throughout the trip on the trail, you will be treated to beautiful scenery and soothing. There are some rocky streams and high cliffs with dense trees and the birds singing accompaniment also sound of beetles. Sometimes, also in some parts of the road, blocked by fallen trees or former landslide, however, this road is relatively flat and can be easily bypassed. There are several places along the way that can be used to sit and rest.
Standing the nature indoors, the visitor will feel as being at the bottom of the tube where there is a waterfall of 200 meters in height, with an abundance of water rushing over the top and turn into soft cotton to the greenish pond. Water that falls in the pool cause rhythm, sometimes resulting in sound louder because of the waterfalls more rapidly. The uniqueness and coolness of this kind of waterfall will make visitors linger in staring to enjoy.